Top Player Movements
News
Competitive Hero Study
Check out Oberdiah's study of average skill rating by hero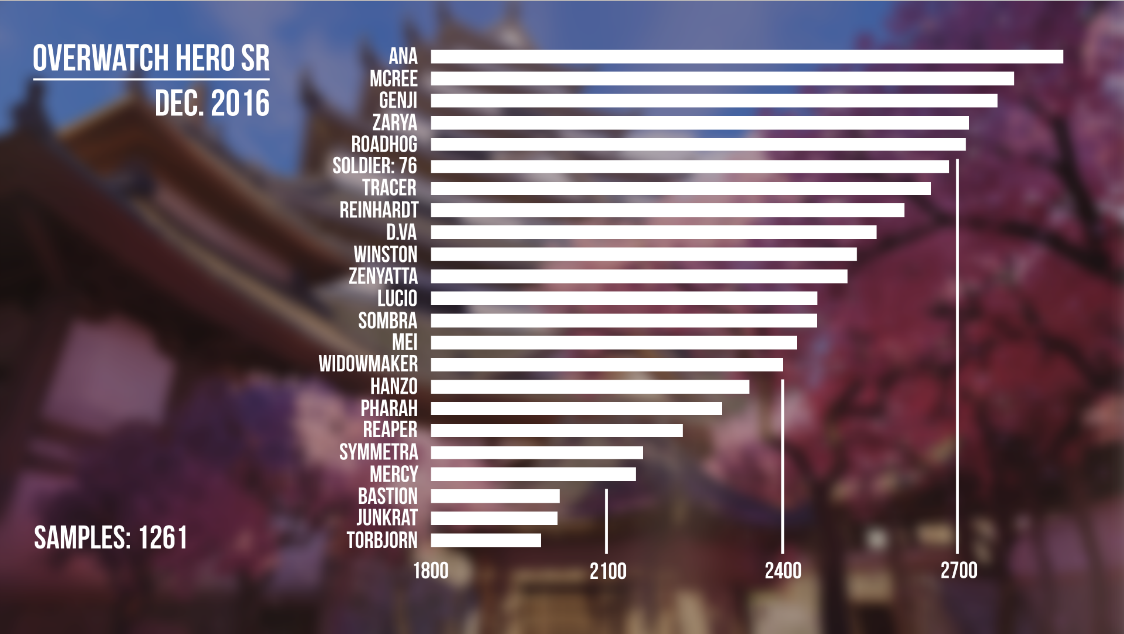 Season 3 Reset (again)
All stats have been reset and we're active on Season 3 now. Thanks!
Season 3 Reset
We have reset all of the competitive stats for Season 3! Currently only the active season stats are being shown, we're working on adding a season toggle so that you can see all of your past stats. No worries your data is safe!

Edit: We may have to reset stats again, it would appear many profiles on Blizzard are still set to Season 2, thusly corrupting the Season 3 leaderboards. We'll get it cleaned up as soon as they update their site!

Thanks and enjoy!
Fix Profile Updates
Blizzard updated some stuff and it broke our profile downloader. We have pushed fixes! Enjoy
Overwatch's Season 2 Skill Rating Tweaks On Time and On Target
Blizzard were never the ones to shy away from bringing sweeping changes to their IPs, especially when they knew such changes would bring about improvement, and with the sort of experience they have racked up over the years, they seldom miss the mark anyway. The changes ushered in for Overwatch's Season 2 competitive ranks and rewards system, fits this mould well too. Season 1 yielded a set of problems which made competitive play uninteresting for a fair number of people, thusly hurting the esports prospects of the IP too. The season 2 changes were meant to iron out these problems and that's indeed what they have accomplished.

Let's make a logical sort of analysis of the changes, by first dissecting the problems they were meant to address. The plague of rage-quitting was one biggest problems which floated to the surface during season 1, followed by unbalanced Sudden Death overtimes. As far as the ranking system was concerned, every loss had a huge impact, resulting in a massive setback on the ladder, unnecessarily frustrating players. Furthermore, the Skill Ranking points turned everyone into a number, and Blizzard have made it clear that they weren't at all pleased with that.

The Sudden Death issue was solved by simply dropping the feature. There is no Sudden Death this season, instead, we're looking at a time-bank system used for all game modes. The bottom line about it is that teams that push harder will positively influence their own overtime. It all echoes real sports, and the accountability which comes with that is always a net positive. Also, the length of each round has been reduced by 60 seconds.

Rage-quitting has been addressed through the introduction of various penalties. Suffice to say that the new system does indeed seem to be working in this respect.

Now on to what we're really here to discuss: the Skill Rating system. To begin with, the 1-100 scale used for Season 1 has been tossed aside, in favor of a 1-5,000 scale, which is divided into 7 tiers: Bronze, Silver, Gold, Platinum, Diamond, Master and Grandmaster. If - at the end of your 10 placement matches - you find yourself with a score of day 2,420, you will fall into the Gold tier. This whole setup feels a LOT better than the season 1 system, because - while they still hurt - losses have a much reduced negative effect, and players instantly stop considering themselves a number and focus of tier designation instead. Tier rating will indicate the average skill of a player and thus become his/her preferred competitive identity instead of a dull number.

Once the tier rating is set, players will stay at that level, even if their Skill Rating drops below the required number. Exception to this are the two top tiers, Master and Grandmaster, which are more difficult to maintain: those who drop out of these tiers, lose their tier-rating. Also, for the top 3 tiers, there's something called skill rating decay, which means that they lose points for inactivity (precisely 50 SR for every 24 hrs). The lower limit of this decay is the bottom of Diamond tier. Those populating the top tiers will indeed have to work to maintain their presence there.

The end-of-season goodies shall be dispensed based on the highest tier one manages to get into during the season.

The low-down: Season 2 does indeed feel like a new beginning for competitive Overwatch, and its tweaks are mostly great, not only from an eSports perspective, but also from the point of view of recreational players, who find themselves dabbling in ranked competitive action and actually interested in Overwatch ranking more and more thanks to this new system.
Season 2 Live!
Season 2 competitive ranks are live. We have reset all season 1 ranks so they don't interfere w/ our ranking / percentiles. You can also check out the skill rating distributions of the community.

Couple of important things to note, issues with the site:

- We have lost our access to Games Played and Games Lost for some people. So you will see your win% go to 0. We're hoping for a fix from Blizzard soon!
- Some profiles are greatly out of date. Many users have complained. At this time it seems to be an issue on blizzards end. Check your stats at playoverwatch.com, if they are different than your stats here, please contact us! If they are the same (And wrong), be patient, it will be fixed I'm sure.

Thanks!